Opening Reception for the AAUW Students' Art Show at the Zanesville Art Center was held at 2 pm on Sunday, April 28, 2018.  The exhibits are on display until May 18, 2019.  The music by The Satin Strings from Zanesville High School and directed by Ms. Laura Gardner entertained the audience before the presentation of the awards. (Click on pictures to enlarge.)
Participating schools were: Adamsville Elementary School, Duncan Falls, John McIntire Elementary School, Larry Miller Intermediate School, National Road Elementary School, Pike, Perry, and New Concord Elementary Schools, West Muskingum Elementary School, Zane Grey Elementary and Intermediate Schools, East Muskingum Middle School, Philo Junior High School, West Muskingum Middle School, Zanesville Middle School, Bishop Rosecrans High School, John Glenn High School, Philo High School, Zanesville High School.
Avant-Garde Awards – In recognition of student artistic achievement in Muskingum County, the museum presents the Avant-Garde Awards, generously sponsored by The Community Bank.  Ten works of art from this exhibition are carefully selected by a juror, and each of the student winners receives an Avant-Garde Award and a $50 cash prize.  In addition, one outstanding Muskingum County art educator is selected to receive the Avant-Garde Award for Excellence in Art Education and a $1,000 cash prize.
AVANT-GARDE AWARD FOR EXCELLENCE IN ART EDUCATION

"Wilma Lawn is a dedicated art educator who cares deeply about her students," ZMA Education Coordinator, Misty Johnson, said in the media release. "A great advocate for the arts, she's a fantastic role model to her students. She just puts in so much extra time because she cares so much about giving them an amazing art education experience."
The student winners were:
K-2 – Ian Cross, Addison Knowlton
3-5 – Miriam Mullins, Sawyer Bailey
6-8 – Mattea McDaniel, Ian Campbell
9-12 – Jenna Mears, Kelsey Price
Best in Show – Connor Quinn
Absent for presentation of awards were: Addison Knowlton, Ian Campbell, Jenna Mears
(Click on pictures to enlarge.)
Participating students were: (to see the students' work, click on his/her name)
Award winners art is above.
Adamsville Elementary School
Art Educator: Stephani Shirer
Grade 3 – Regan Shirer
Grade 4 – Erin Hogue
Grade 5 – Emily Binkley, Isaiah Cullins, Colton Devoll, Jocelyn Wagner, Dorien Wallace
Grade 6 – Amelia Koenig, Ashlynn Martin
Duncan Falls Elementary School
Grade 3 – Lexie Charles
John McIntire Elementary School
Art Educator: Sharon Fulton
Grade 2 – Serenity Graham
Grade 3 – Caleb Hollins, Cyaira Wallace
Larry Miller Intermediate School
Art Educator: Julie Goodall
Grade 3 – Nekoda Blinson, Aiden Briner, Madelyn Caldwell,  Ava Crock, Sarah Davis, Mikka Denton, Aaliyah Drake, Kaleigh Gibson, Luke Hanna, Garrett Helser, Elaina Hodge, Blake Lappert, Megan Lashley, Cassie Mathers, Juliana Mihelich, Brenna Milliner, Makiah Miracle, Kierra Moore, Dylan Newcomer, Jackson Pauley, Kayleigh Smith, Kendall Snider, Mya Stamm, Petra Taylor, Eric Wagner, Ava Winland
Grade 4 – Cassie Babcock, August Camp, Chloe Goff, Kali Hughes, Bailey Jennings, Ashlynn Kuklica, Westen Massie, Chloe Mattox, Riley McKelvey, Leia Morgason, Avianna Parmer, Ella Starrett, Josilyn Stashonsky, Madilyn Terrell, Brody Tuttle, Karleigh Webster
Grade 5 – Emmy Baird, Mason Brothers, Libby Brown, Zeth Caldwll, Abram Dean, Kash Garber, Marc Grutkowski, Keira Harper, Saige Jarrett, Reese Kornokovish, Jeremy Kress, Faith Lemon, Abigail Matheney, Jacob McCullough, Courtney Mitchell, Miriam Mullins, Adisyin Norris, Emilee Smith, Morgan Smith, Ben Stamm, Josie Swartz, Teagan Walrath, Chelsea Wilkins, Ian Wilson, Delany Woodard
National Road Elementary School
Art Educator:  Sharon Fulton
Grade 2 – Jonah Adams
Grade 4 – Adabella Barnett, Hope Blackford, Kyeriona Butler, Sailor Chittenden, Jerell Clark, Noah Cunningham, Mayah Dalton, Jade Dilley, Kobe Dilley, Kamilee Dunn, Serenaty Gibson, Shelbie Hammersley-Riggs, Logan Hayes, Avery Ihinger, Layken Kawa, Mariah McLaughlin, Adrikh Meyers, Astrid Morgareidge, Maddie Murgatroid, Justin Murrey, Colton Shaner, Jayden Spencer, Kaleb Starkey, Daevion Wallace, Aallyah Whitehair, Gunner Williamson, Miles Wilson
Grade 5 – Karrah Dunlap
Grade 6 – Ira Perry, Jada Ward
Pike, Perry, and New Concord Elementary Schools
Art Educator:  Katheryn Werner
Kindergarten – Greyson Crock, Lilian Daughtery, Brooklynn Dennis, Addison Hayes, Wyatt Hildenbrand, Weston Kasper, Colson Laundry, Georgia Lenner, Avery Linville, Trinity Patterson, Jilliynn Richardson, Libby Schlosser, Blaze Secrest, Troy Sharrer, Autumn Stewart, Adelle Stoolfire
Grade 1 – Maggie Babcock, Lucas Barker, Carter Barr, Rimie Barr, Evlyana Burwell, Ian Cross, Taylor Denwacter, Addison Knowlton, Audra Koch, Somer Pipher
Grade 2 – Grace Allred, Hunter Barr, Olivia Beebe, Sean Clinard, Ian Davis, Haylee Hayes, Natalie Huey, Khole Jarvis, Layla Kaiser, Ava Knowlton, Kase Kreager, Kamry Lahmner, Timothie Mann, Maggie Martin, Lily Maxwell, Elli McVicker, Syeira Patel, Jaylynn Richardson, Brantley Spragg, Natalie Terrell, Laura Vasquez
West Muskingum Elementary School
Art Educator:  Kelsey Middleton
Kindergarten – Jacob Butler, Harper Dillon, Haven Donohoe, Grayson Hill, Grayson Martin, Andie Osborn, Grace Sidwell, Madalynn Skaggs
Grade 1 – Casen Moss, Jersey Anderson, Bridget Beight, Brayden Cartner, Logan Check, Aiden Fetter, Ethan Graves, Dakota Scott, Delilah Settles, Alisyn Walter, Ashlynn West
Grade 2 – Raicelynn Bash, Mason Hendricks, Stella Joseph, Jennifer Kuhn, Mickayla Landon, Eve Meacham, Camryn Melsheimer, Madelyn Melshimer, Koen Miller, Olivia Prang, Weston Ritchie, Emilia Rodgers, Ryder Rose, Logan Serdy, Jacey Tanner, Cortland Tate, Sydney Thornton, Lily Tracy, Aubree Trout, Kahlia Turner, Briar Wilson, Keegan Wilson
Grade 3 – Brooke Beight, Kaycie Cox, Odessa Ford, Gabriella Granstaff, Lacey Hardesty, Luther Johnson, Elle Knaup, Aiden Michel, Isabell Parmer, Zamir Sesay, Mack Shreve, Hugh Snyder, Bryce Stant, Myles Wakefield, Shaelyn Watiker
Grade 4 – Sawyer Bailey, Allayna Banks, Melody Blodgett, Tavyn Hains, Dalilah Holdcroft, Braelyn Huff, Lyla Johnson, Avery Kullman, Caiden Lane, Zalia Luu, Cooper McKenzie, Brookelyn Milam, Madyson Null, Mady Paul, Mireyha Reese, Genna Rose, Evelyn Ruetz, Nash Ryan, Cooper West Mikala Willet, Shelby Wilson
Zane Grey Elementary and Intermediate Schools
Art Educator:  Wilma Lawn
Kindergarten – Kelsea Godwin, Jai Walker
Grade 1 – Macen Christian, Bentley Moore
Grade 2 – Jastlyn Carson, Jaelyn Garnes, Yonica Hook, Nathan Hyson, Serenity Pitts, Alyria Sherrell, Logan Spears
Grade 3 – Stephen Baker, Makala Fields
Grade 4 – Allyonna Conrad, Marjorie Fansler, Harry Garland, Ryder Lanning, Alexander Miller, Savannah Robinson
Grade 5 – Zoe Browning, Jazmine Conrad, Kameron Insley, Madison McBrayer, Forrest Tabler, Nehemiah Wilcox, Rayann Williams
Grade 6 – Keiana Stewart, Asauna Walker, Chance Wallace
East Muskingum Middle School
Art Educator: Gregg Stamm
Grade 7 – Tristan Arena, Ian Campbell, Jerria Colvin, Emma Dolan, Eliza Jane Morrow, Kaila Paden, Noah Scheffler, Raya Taylor, Sarah Wayne, Mady Webster
Grade 8 – Braylon Buchanan, Will Elson, Adrian Griffin, Clarice Hill, Alivia Lake, Ethan Lake, Mattea McDaniel, Hayley Mitchell, Nichole Mash, Ryann Snider, Kaylee Wilkins, Caden Wilson
Philo Junior High School
Art Educator: Bob Grayson
Grade 8 – Kylee Adams
West Muskingum Middle School
Art Educator: Justin Harstine
Grade 5 – Zaylie Mills, Jaxson Prang, Lucas Stant
Grade 6 – Jersei Bogle, Emma Norman, Sydney Stall
Grade 7 – Sarah Abner, Aidan Davis, Keolani Gill, Isabella Henderson, Kenley Piccone, Zosia Walker
Grade 8 – Autumn Burkhart, Joe Carter, Madison Elson, Caden France, Josie Fuller, Emma Jewell, Ron Knox, Ella Leonard, Makenna Shiets, Isabel Smeltzer, Dylan Swope, Kira Zattau
Zanesville Middle School
Art Education: Sara McCall
Grade 7 – Jersey Draughn, Camaya Lee, Juliannys Soto Velazquez, Mya Wallace
Grade 8 – Colby Ayers, Olivia Baldwin, Abigail Baldwin, Akayijah Riley, Kaelyn Taylor, Catherine Taylor, Arianna Walls, Anton Yurich
Bishop Rosecrans High School
Art Educator: Martha Zeller
Grade 9 – Sierra Kunkler
Grade 11 – Will Bernath, Connor Quinn
Grade 12 – Ryin Browning, Allen Chen, Kylan Harper, Halle Labishak, Tessa Littick, Arianna Moulton, Alyssa Smith
John Glenn High School
Art Educator: Jess Martin
Grade 11 – Brayden Fete, Leah Jordan, Sage Murphy, Ryley Paisley, Jodi Stoner, Rachel Wheeler, Mya Wilson, Daphne Woodmansee
Grade 12 – Lauren Freeland, Alex Kridelbaugh, Matthew Lowery
Philo High School
Art Educator: Martha Pollock
Grade 10 – Kendall Lent
Zanesville High School
Art Educator: Heather Beauchamp
Grade 8 – Heidi Judson
Grade 9 – Riley Bihlman, Abigail Bugglin, Tyler Carpenter, Lacie Collins, Kinley Dodson, Jade Drabik, Madalynn Kennedy, Cameron Knowlton, Hayden Lightle, Sydney McWhorter, Jenna Mears, Vega Mellon, Natalie Moore, Kelsey Price, Rylie Scott, Malika Shawar, Peyton Sullivan, Cathryn Vaughn, Frankie Warne, Chezney Wilcox
Grade 10 – Connor Allison, Alyssa Carpenter, Skyler Chaney, Riley Collins, Cory Darner, Kenlie Dysart, Kendra Fountain, Gabriella Garven, Brianna Larimer, Dylann Leonard, Craig Nelson, Emma Riley, Savanna Shaffer
Grade 11 – Camden Cooper, Anthony Emrick, Jessica Haag, Natalie Hill, Dylan Mitchell, Tahlia Perdue, Tristan Vaughn, Rhyann Wilson, Torie Winters
Grade 12 – Savannah Alderman, Heather Barborak, Ashley Brandon, Kaileb Brettrager, Madelyn Cherrington, Haley Frazier, Ashton Romero, Hannah Staffey, Connor Tyo
Zanesville High School
Art Educator: Devan Hale
Grade 9 – Jaycee Barnett, Ashawn Davis, Brody Goldsmith, Malachi Hampp, Aubrieana Hiett, Samuel Lightle, Elijah Mickens, Jessica Nelson, Ava Perrin, Brooklyn Smith, Conner Wade, Shayna Walls, Lydia Young
Grade 10 – Shelby Abella, Kylie Kennedy
Grade 11 – Melanie Bryan
Grade 12 – Maraia Mayle, Madison Stepp
Zanesville High School
Art Educator: Heather McFerren
Grade 9 – Ashawn Davis, Isaac Minor, Brooklynn Smith
Grade 10 – Rihana Martin
Grade 11 – Jade Peveley, Avalon Walker
Grade 12 – Christian Burns, Iceum Darby, Dekker Davis, Katelynn Dunkle, Dakoda McKenna, Juliana Ortiz, Madison Stepp, Melanie Wells
Cass Mind Academy
Art Educator: Cindy Henceroth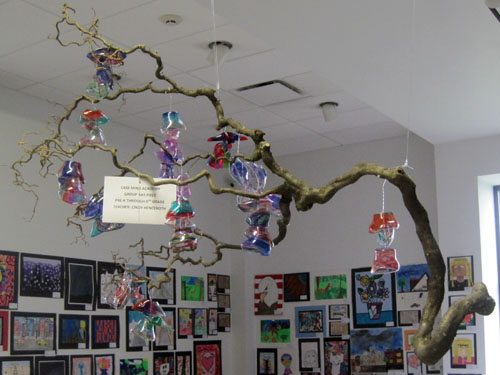 A Collaborative Work by all listed below.
Pre-K – Risen Schreiber
Kindergarten – Rexx Johnson, William Shreve, Kristopher Untied
Grade 2 – Bentley Nissley
Grade 4 – Leo Lewis
Grade 5 – Daneil Shelton
Grade 8 – Jay Bassette, Ian Nissley
Grade 9 – Michael Shelton
Grade 12 – Matt Haught